There's been a lot of discussion about the pros and cons of a new hospital in Austin.  I won't dive too much into the civic implications, you can read Brian Kelsey's comments for that. I want to highlight two things: 1.) recent opinion and data on "eds and meds" 2.) how more healthcare infrastructure might impact startups. And just a small disclaimer. I realize we're talking about a hospital. But my assumption, right or wrong, is that a large medical center will bring a substantial ecosystem along with it.
The Broader Picture For Healthcare Jobs
In a recent KVUE story, Austin-based economic consulting firm TXP provided a report that predicted 15,000 jobs would be created with roughly a $2 billion impact on the local economy. While those might seem like hefty projections, they're more realistic when you see healthcare job growth alongside investments awarded by the Texas Emerging Technology Fund (TETF).
Since the beginning of the year, TETF had issued nearly 170 awards totalling more than $370m. The bigger news might be the industry breakdown: nearly half were awarded to biotechnology and life-sciences firms. As far as the job numbers, a recent study by Battelle showed employment in biosciences grew by 19% between 2001 and 2010.
One other set of data from EMSI also plays into the discussion. Their analysis looked at IT-driven healthcare jobs created from 2001-2012.
"When it comes to growth, Texas is the clear leader. The top MSAs for new health IT jobs from 2001-2012 are San Antonio, Houston, and Dallas. Each city experienced 30% growth or better." 
At this point, things look pretty rosy for anything that has a Life Sciences component — even better if it has a high-tech twist to it. So that's the data on R&D and employment. Now, let's look at education and healthcare in the context of cities.
A Macro View of Eds and Meds
Borrowing a chart from Aaron Renn at New Geography (below), at first glance, there doesn't seem to be much of an issue with education and healthcare. Eds and Meds have grown steadily for years, but unfortunately, they haven't  had any partners in growth. In fact, it hasn't even been close. This was surprising:
"..between 1990 and 2008, eds, meds, and government accounted for about 50% of all national job growth."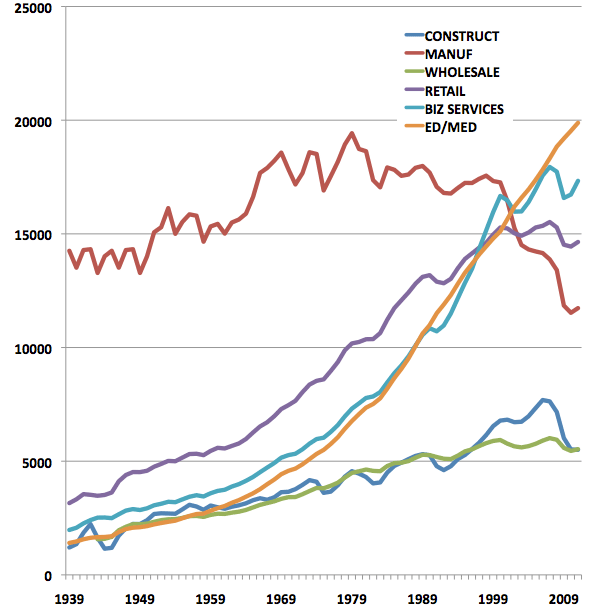 And before you say, "hey this all looks phenomenal!", don't forget about the costs associated with all of that growth. Renn cites a chart from Carpe Diem (below) showing that Medical costs and tuition have increased at twice the rate of inflation. In that context, it's not surprising that only a few cities might benefit from the Eds and Meds combination. Those with large medical centers like Houston or others like Boston, with its established biotech cluster, might be best aligned.
There was another data point that noted urbanist and researcher Richard Florida points to in a recent post at Atlantic Cities. Using data from the U.S. Bureau of Labor Statistics, his colleague mapped different occupations and summarized the eds and meds effect on economic development.
"..meds and eds was not associated with regional wages, levels of high-tech industry, or levels of innovation (measured as patents per capita), and was negatively associated with economic output per capita (-.29)."

A Boon To Austin Startups?
So how might things play out in Austin, and what types of young companies might benefit? If you look at where the money is flowing, healthcare-oriented models appear to be regaining some swagger. PeHub summarized some of the movement in Life Sciences and Healthcare, emphasizing how investment firms are taking a page from the internet sector.
"There's been more of a consumer-Internet focus," said Annie Lamont of Oak Investment Partners, summing up the attitude as "let's take the consumer Internet and apply it to healthcare."

If that's the case, that opens things up a bit. A company like MapMyFitness comes to mind. With a strong affinity to the internet, a data-driven approach, and a large audience in front of it, its challenge is visibility and scale. Startups with data and analytics expertise also have a compelling pitch.
Whether your parsing internet data, adding mobile capabilities,  or helping  healthcare providers move online, there's a need for technology tools and execution. Companies like MutualMobile and UnwiredNation would likely benefit as a cottage industry evolves around more healthcare infrastructure. If we look at more traditonal IT-driven companies, it's just as appealing. Compliance (HIPPA) and the 'consumerization of everything' is clearly expanding the boundaries of everyone's investment portfolio.
"Some venture firms are also broadening the types of businesses they consider part of the life-sciences field, with ventures that apply information technology to healthcare problems of particular interest."
As medical records continue go electronic in such a highly regulated industry, companies that provide bigdata, security and records management will likely be short-listed by any company looking to increase efficiencies or drive compliance. In that context, an Austin company like StoredIQ comes to mind. Data expertise? Check. Security expertise? Yep. Again, IT-laden approaches are pretty straightforward, especially since so much tech is embedded in every sector's overall strategy.
But there's another startup area that could be just as big, even a sleeper: energy and cleantech. Whether it's solar on commercial rooftops, EV chargers in parking garages, or the smartgrid, there's a ton of tie-ins to medical centers and a growing healthcare community. I can't imagine a new hospital without solar panels these days. Heck, even the new Formula One facilities will probably have them.
But it's not about selling panels, it's the support that's needed to operate more efficiently and manage energy resources. From companies like Incenergy for making buildings smarter, to sustainable product companies like Firefly LED, Austin's greentech community has a lot of expertise. And what about taking the Pecan Street model to a large medical facility? Doesn't seem like a stretch to me.
But regardless of how Austin's medical center pans out, I'm willing to bet it'll be a positive for Austin's startup community. After all, our city hangs its hat on quality of life, so I'm having a hard time seeing how more healthcare will take away from that.
Related articles